Soooo this will be my last post for a while as we are off to sunny Florida for a week in less than 48 hours!!! And what good timing it is, when the outside is currently freezing rain and threatening my drive to work tomorrow. Where the heck did this storm come from? I said to Kevin last weekend, "which winter coats of your's need to be washed?" And he told me, "we're still going to get a storm yet, just you watch." This was my reaction: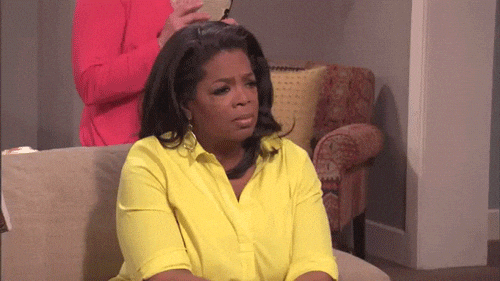 BUT HE WAS RIGHT. I hate when that happens. But it happens all too often around here, so I DID NOT wash the winter coats, which it looks like I'll have to pull out again tomorrow. But then shorts and t-shirts the next few days after that, so that makes it all worth it.
Well it's been a zoo at work, as it is Spring Registration Week so all of our members are enrolling in their spring courses. It has been the busiest registration week yet, and we have the smallest amount of staff dealing with it. Myself and one other girl have been the only two steady staff all week. The others come and go/don't really know what they are doing anyways when they are there so not much help anyways LOL. Today, for example, we were still trying to balance money from Monday. I was only scheduled until 2pm today which is just silly/stupid/really poor planning on my boss' part and said "no, I can't" when asked to stay until end of day. I was asked AT 1PM, one hour before I was supposed to leave!!! We have a new manager and although I like her, she vastly underestimates the amount of staff needed for things sometimes…such as this week.
Anywho, when I left work today, I went to our accountant's who somehow scored us an extra $1000 in income tax, compared to last year! He's awesome. I told him to try hard when I dropped the paperwork off, as Kenz really, really, really wants a hot tub so we have started saving for one. But we also have a laundry machine that sounds really, really, really bad so I think that will be the next priority haha.
So Wednesdays are always fun, because I get to come home from work to find out what the garbage/recycling people did not take this week. Honestly, there's always SOMETHING left behind – and usually no note left on it so I don't even know what we've done wrong/can't learn for next time. This is the cardboard that was left behind this week:
WHAT WAS SO BAD ABOUT IT THAT IT COULDN'T BE TAKEN?!
You can see that Kevin ripped it up into smaller pieces, so followed rule #1. However, I'm thinking that because he didn't tie the pieces together with a piece of twine, that they didn't take it. But who knows and I'm not going to read the rule book that we get to try to figure this out when they are SUPPOSED TO LEAVE ME A NOTE WHEN AN ITEM IS LEFT BEHIND. I was calling the City so often to complain about our garbage pick-up that the one time the lady just told me to call our Councillor, as she will get more done about it than the City can. So I think I may call her tomorrow. Because it is just crazy the amount of times stuff is left behind here. Apparently we have "contracted garbage people" in our neighbourhood, not the well-paid City garbage people, so they do the "bare minimum" I've been told (by a neighbour who IS a city garbageman lol).
Soooo, I think I've built up the suspense enough about our recent basement renovations (installing new carpet, pillars and repainting the baseboards). Here are pictures of the final project:
Our new pillars remind us of Athens/Rome with all the Roman pillars….don't they look similar? Above right is the Hercules Monument in Athens, Greece.
It's so nice to have this all done. My goal was always to have it done before Florida, so we Kenz did awesome. He is extremely handy and this may not LOOK like a lot of work, but really ended up being way more than we imagined, as discussed here.
I know I've mentioned this before, but I'm really getting annoyed with people asking when I'm going to have a baby. Society has this expectation that everything must come at a certain time and not on your own schedule:
you date someone for a while: "when are you getting married?"
you get married: "when are you having children?"
you have one child, "when are you having a second?"
you have a second, "are you going to have anymore?"
OMG. OMG. OMG. OMG.
What's most annoying is when these questions come from non-family/friends and are only directed at the female. Kenz never gets asked this; even when we are together, the question is directed at me. I've already told one senior at work to politely "stop asking me about the kid-thing" but today on his way out, I got, "Happy Easter! Maybe this time next year, you'll have 'your own bunny in your home!'" Me (politely): "What did I tell you about that question!?" My coworker: "what is he talking about? I don't get it." LOL. I told her, he's wondering when I'm going to have a kid. Well, I told him that I already have one bunny in our backyard which is currently enough. Here it is:
But honestly, if anyone has any good ideas of how to deal with this really annoying question, please comment below!
Oh, one last thing…I don't watch TV hardly ever, so my only connection to what happens on TV is via newspaper or social media or family/friends. Apparently, on Shark Tank recently, there was this really nice farmer who you'll just fall in love with and who I think represents the farming community really well. If you don't know what I'm talking about, you need to watch this.
Since I won't be around this weekend, I want to wish you all a happy early Easter. And what's a better way of saying "Happy Easter" than seeing some sparkly chicks/wanna bunnies?! Ya, I don't know, either…so here ya go: